Civicus: Q&A with Thomas Mapfumo
"Please free those in Zambia. And to the rest of the freedom fighters in this world: don't give up" – a message from an iconic African artist and activist.
Read the article at: https://www.civicus.org
---
Zimbabwe music icon: "Enough is enough"
Thomas Mapfumo is known as the 'Lion of Zimbabwe' for his popular political folk music that was the soundtrack to the country's independence struggle in the 1970s. Now he's an ardent supporter of the latest round of protests in Zimbabwe, and the #ThisFlag movement.
View the video at: http://www.bbc.co.uk/programmes/p043m9q2
---
On this unique compilation, Dr.Thomas Mapfumo & the Blacks Unlimited perform before a live audience celebrating the tenth anniversary of the human-rights-conscious Sanctuary For Independent Media in Troy, New York. The performance fuses old and new beats to level out fan preferences while enhancing the spice of Chimurenga  variety.
Presented as a double album, Part 1 of the compilation consists of tunes like Mugarandenga, (a remix of an eighties hit), Chikonzero (The cause), Karigamombe (The Champion), Shebeen(The Night Spot), Vechidiki (Youth Beware) and Zimbabwe. Part 2 is purposefully aligned to underpin a pressing political message about the post-independence crisis in Zimbabwe. Through songs like Danger Zone, Dr. Mapfumo bemoans the looming threat to world peace through acts of violence, terrorism and cruel dictatorships.
The plea for global peace resonates with the burning restlessness in Zimbabwe where many are wallowing in poverty due to leadership corruption and lawlessness. Resultantly the anxious masses are intermittently  taking to the streets to protest as they lawfully demand government accountability. Wars, terrorism, dictatorships and various other government big-headedness issues are setting this world ablaze.
On the song "Chikwereti" Dr. Mapfumo makes a political statement  against odious debts that poor countries like Zimbabwe keep acquiring from rich nations like China or the West as foreign aid. Instead of the borrowed funds being prudently applied to develop poor nations, leadership greed and corruption are triggering Third World leaders to siphon the funds to off shore personal accounts. After the heavy-duty political messages on the compilation, Dr. Mapfumo lightens up a bit as he invokes some reminiscence through old tunes like "Pidigori" (The infamous braggart is dead), Chiruzevha Chapera (End of colonial restrictions), and Maria (a beautiful lady), a bonus track. The prominent piece on the entire compilation "Chinogiya" is presented live as a special offering to harbinger an upcoming hot album that Dr. Mapfumo will be releasing in December 2016.
Dr. Mapfumo and the Blacks Unlimited band are forever grateful for the fans support. Please "like" him on Facebook or follow him on Twitter @chimurengamusic.
---
A Man Of Many Colors
Read Fred Zindi's review of Lion Songs @:
http://www.herald.co.zw/a-man-of-many-colours/
---
The Lion Of Zimbabwe: Thomas Mapfumo
'Danger Zone' is the name of the new CD by guitarist and singer Thomas Mapfumo: 'The Lion of Zimbabwe'. Since the early 70s he writes and plays his own music together with his band The Blacks Unlimited. Music that is based on chimurenga. A rousing musical style invented by Mapfumo where he adds sounds and beats to the traditional mbira (thumb piano).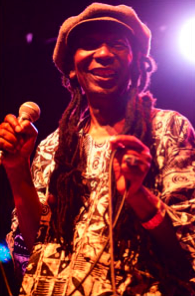 With his long dreadlocks Thomas Mapfumo is a striking personality. In the 60 he played western covers but also composed his own music. In 1978 he started the band The Blacks Unlimited and invented and developed the chimurenga. A new musical style with quick hi-hat rhythms in combination with the national instrument the mbira (thumb piano). This combination is unique and made him a national star; especially when he imitated the twinkling mbira patterns on his guitar. He got the nickname 'The Lion of Zimbabwe'. Mapfumo is loyal to the people of Zimbabwe who had learned not to love their own culture. Thomas Mapfumo honors his culture: he sings in Shona, plays the chimurenga and uses the mbira. Moreover, he sings about (political) abuses and has become the voice of the Zimbabwean people.
Also on his new album 'Danger Zone' the chimurenga fully represented; but we also hear pop and reggae. Thomas Mapfumo sings in Shona and in English about love, the power of (African) music during

(dance) parties, the absurdity of the (Zimbabwean) politics, the wars in Syria, Iraq, Afghanistan and Libya and he sings about alcohol abuse. His critical lyrics were not appreciated by the Zimbabwean regime and that's why he lives in Oregon (USA) now. Exciting are the melodies, catchier than on his previous albums. His music is uplifting and always sparkling: although he sings about tough subjects. Songs like 'Hatidi Politics', 'Zimbabwe' or 'Pasi Idandaro' are the heart of this album and are wonderful. Mapfumo has a sonorous and recognizable voice and even with computer enhancement he's the figurehead of The Blacks Unlimited. 'Danger Zone' is wonderful record with sparkling guitars, mbira, horns and backing vocals with songs that shine far beyond the average African music. (© Mattie Poels)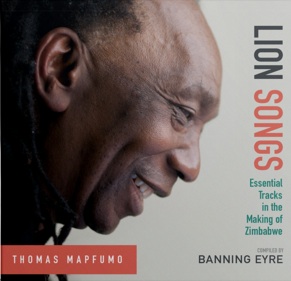 More music by Thomas Mapfumo – check this wonderful compilation with historical background information told by Mapfumo – click on the cover
Thomas Mapfumo: 'Danger Zone' (Chimurenga Music Company / Xango)
Thomas Mapfumo: 'Lion Songs' (Thomas Mapfumo / Xango)
---
Thomas Mapfumo Continues To Inspire The World
2015 has been a busy year for the Chimurenga Maestro who has toured many global spots from his home turf in Oregon, USA to England, Australia, Mozambique and South Africa. On a fusion of Chimurenga Music as a purveyor of black consciousness, human rights and entertainment, Mukanya continues to preach the peace and democracy agenda through music. In September 2015, he re-visited Mozambique, a country that shares a lot of history with Zimbabwe. That was after he had toured South Africa earlier on in September. This second Mozambique tour was a sequel to the 1967 tour with the Springfields band when Mozambique was still Portuguese East Africa. This time when Mukanya performed in Mozambique, he recollected the shared camaraderie and military support Zimbabwean Freedom Fighters received from Mozambique during the days of the struggle. Even as he sang the "Zimbabwe-Mozambique" song in the 80s, he had so much gratitude in his mind. Mozambique was another home for troubled Zimbabwean refugees "Kuyaira kwevasina musha". It accommodated thousands of our refugees at Chimoio, Nyadzonya and Mboroma. Even after the Nyadzonya-Chimoio massacre by the ruthless Rhodesians, the struggle never recoiled until independence came in 1980. When Mukanya made his second coming to Mozambique this September 2015, he was humbled and honored to meet with the Governor of Tete, the Mayor of Chimoio and other very important delegates from the government of Mozambique who acknowledged his special role in the cry for a stable Africa. It was a bittersweet platform as they shared notes on the struggle for independence and the need for continued peace and development efforts in the region. With that, even the overjoyed Mozambican fans reassured Mukanya that he still remained a committed champion for human rights and peace. They still acknowledge the role Mukanya played in the struggle to entertain, educate and motivate the masses. As the Lion of Zimbabwe, Mukanya continues to roar for social justice and the fight against poverty, arbitrariness and corruption. Now he challenges the youth to take over the relay stick and vigorously spread the same message until Africa becomes a united, examplary and prosperous continent worthy the respect of the global community. Aluta Continua!
---
Thomas Mapfumo, Zimbabwe's Cultural Advocate In Exile
-May 28, 2015
---
---
Thomas Mapfumo performs on stage during Live 8, Africa Calling, in 2005.
-Matt Cardy/Getty Images
---
As Bob Marley is to Jamaicans or Fela Kuti is to Nigerians, Thomas Mapfumo is to Zimbabweans. The bandleader is a superstar in his home country, both for his masterful blending of traditional sounds with world music and for his powerful political messages. Mapfumo has been a tireless critic of the colonial government of former Southern Rhodesia, as well as the dictatorship that presently rules Zimbabwe.
Music critic Banning Eyre has written a new biography of Mapfumo and compiled an album of his music, both titled Lion Songs: Thomas Mapfumo And The Music That Made Zimbabwe. Eyre recently joined NPR's Robert Siegel to discuss Mapfumo's music and his career of moving people — both on the dance floor and in their political views.
"He is a singer and a bandleader," Eyre says, "but also an activist: a social critic who has kept in his heart the interests of poor people and rural people and people who become the victims of governments, whether it's the white, racist Rhodesian regime or the corrupt regime of Robert Mugabe. He's a politician in the sense that he has really moved the politics of the country forward. But really, at a deeper level, he's an advocate of culture."
One element that stands out in Mapfumo's music is the way he uses a traditional thumb piano called the mbira, which Eyre explains is believed to have the ability to contact the spirits of ancestors. Mapfumo translates music traditionally played on the mbira — a repertoire of songs thought to have been around since ancient times — to the electric guitar.
"And so, when Mapfumo started putting that music on electric guitars in the 1970s and singing songs that were both bringing forward the culture but also attacking the regime and encouraging fighters," Eyre says, "it was a really powerful package."
Other former British colonies in Africa saw black-majority governments take over once given independence, but in Southern Rhodesia, colonial whites declared their own independence and wanted to remain a white-ruled country. A 1977 song, "Pamuromo Chete (It's Only Talk)," was Mapfumo's response to a statement by the leader of the white government, Ian Smith.
"Smith had declared that there would never be a black-majority government, not in a thousand years, so Mapfumo was right there with his response: 'You're just talking, it's only talk,'" Eyre says. "And he was right. Within a few months, Smith had to walk that back. And you can hear this kind of moral authority in [Mapfumo's] voice in that song. This is the moment when he's really discovering that he can harness traditional rhythms, melodies and attitudes and make it really sting."
Now living in exile in Oregon due to his outspoken criticism of Zimbabwean president Robert Mugabe, Mapfumo yearns to go home, according to Eyre.
"He still has this … sense of unfinished business: that he's needed at home," Eyre says. "He tries his best to record music and release it, but you never really lose that restlessness, that desire to get back."
---
---